Hey all, been lurking on this site now for quite a while now, especially this board. I've been doing the 30k thing since BoC came out and the (at the time) small following of the game at my local GW exploded with new players. By the time I moved out of the area, nearly every legion had some representation on the tables. Here though the interest is much lower, mostly due to it not being an excessively high income area as before, but I'm looking to change that. I must note though that I am much more a hobbyist than a gamer. Thus everything I run when I actually do play is meant to be more fluffy than competitive.

So far, I mostly only have the box game models with a few other loose ends I've picked up. I wanted to get the core of my army done before I moved onto the fun forgeworld stuff. A list of what I have done and painted is as follows:
-BoC Termi Centurion
-BoC Chaplain
-Two Contemptors, one with fist and assault cannon, and one with double melt as
-10 cataphractii termis, fist and storm bolter (will be getting cyclone missle)
-5 tartarus termis (lightning claws and a heavy flamer for fun more than use)
-40 mk4 tac marines (most sgts have either fists or swords)
-5 man mk3 plasma legion support
-10 man mk3 vets (two heavy bolter):built, now half painted
-land raider phobos
-primus medicae
-consul Herald

Unbuilt, waiting on parts
-10 man mk3 breaches (waiting on the shields and arms I ordered)
-5 man mk3 heavy support (haven't decided what weapons to give.)

Next buys:
-the primarch himself
-invictarii
-sicaran
-spartan
-a couple rhinos
-then who knows

And now some pictures. I don't have the full army shot, I'll take that in a few days (a good portion of my stuff is packed from my move). I went with a lighter blue for no reason other than before I washed it down, I decided it was a pretty blue (simple mind simple pleasure). They are still missing transfers and unit badges which will be done when Im done. These are the pics I have on my phone.


Tartarus squad (really needs decals and some white frills, they look so plain)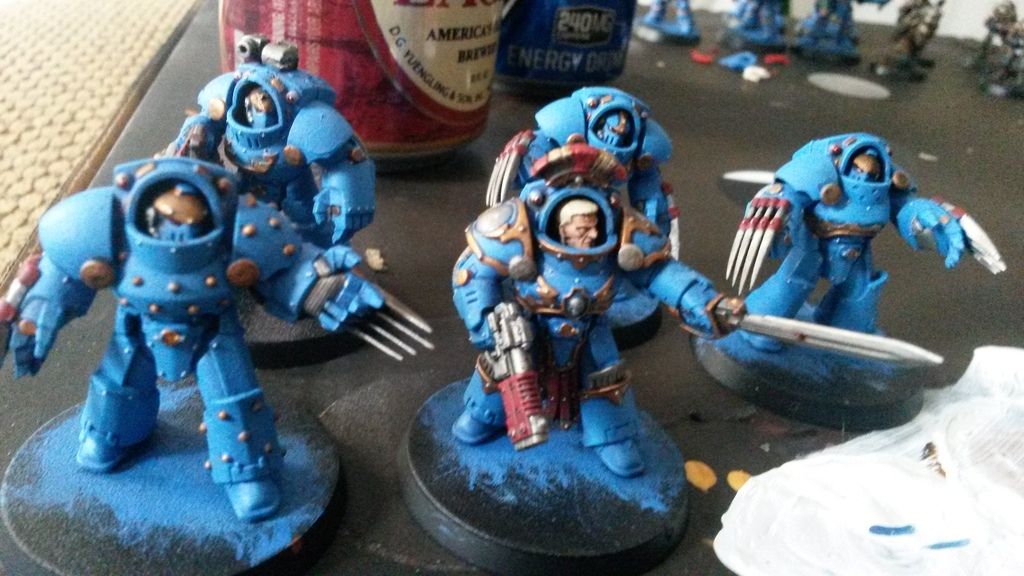 Primus Medicae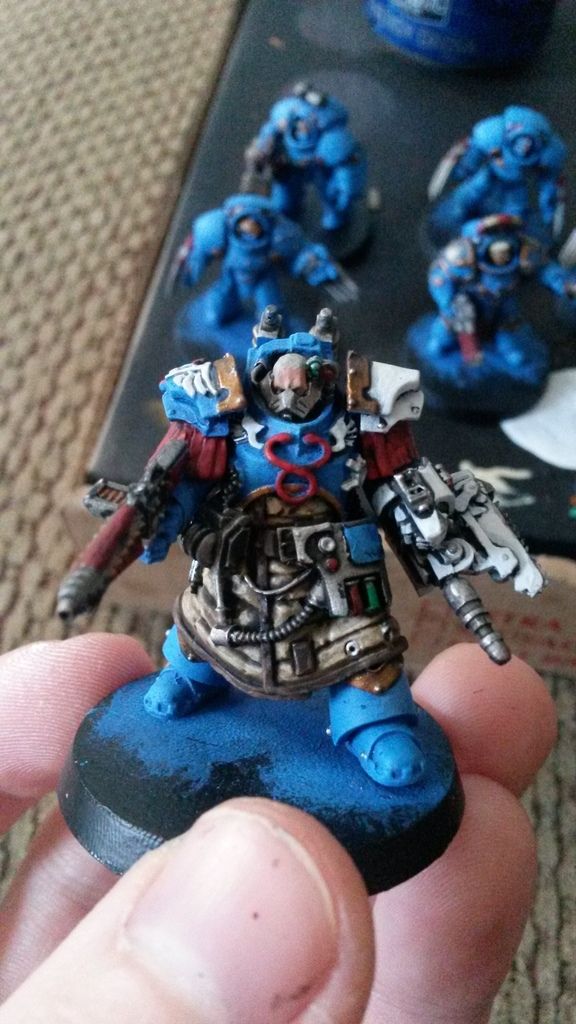 Legion Support



Land Raider Phobos, was able to snag two sets of the UM special doors for dirt cheap on ebay.



Companies First Sgt. (75% UM upgrade kit, I had to)



Centurion, need to redo the tassels. White came out baaaad.



Contemptor, needs some while laurels and frills.



Herald, as I'm sure you can all agree, I was in the vast minority to be excited when this model came out as a GW store exclusive.



So thoughts? And also, I look forward to being a part of this board that has been the source of so much inspiration. So thank you brothers of the XIII!