++ INCOMING TRANSMISSION ++
Brothers, the dogs of Lorgar have shown their treachery today.
Let them know that the Sons of Guilliman do not fall so easily,
and make them pay for their betrayal of the Emperor in blood and death.
Courage and Honour!
++ END TRANSMISSION ++
I've been doing a fair bit of work on my Ultras lately, so thought I would start up a new WIP log as I felt my other one got a bit cluttered with various things and models that no longer exist etc, so this should make it a bit easier to follow. Hopefully this is ok, if not mods please feel free to add this to my previous thread.
This log will follow my building of the Ultramarines 38th Company, 3rd Centuria lead by Centurion Jay Burgii, Terran legionary of the XIIIth Legion. I will also be building and painting other elements of the 38th Company that aren't part of the 3rd Centuria, otherwise I would just be left with an army of infantry.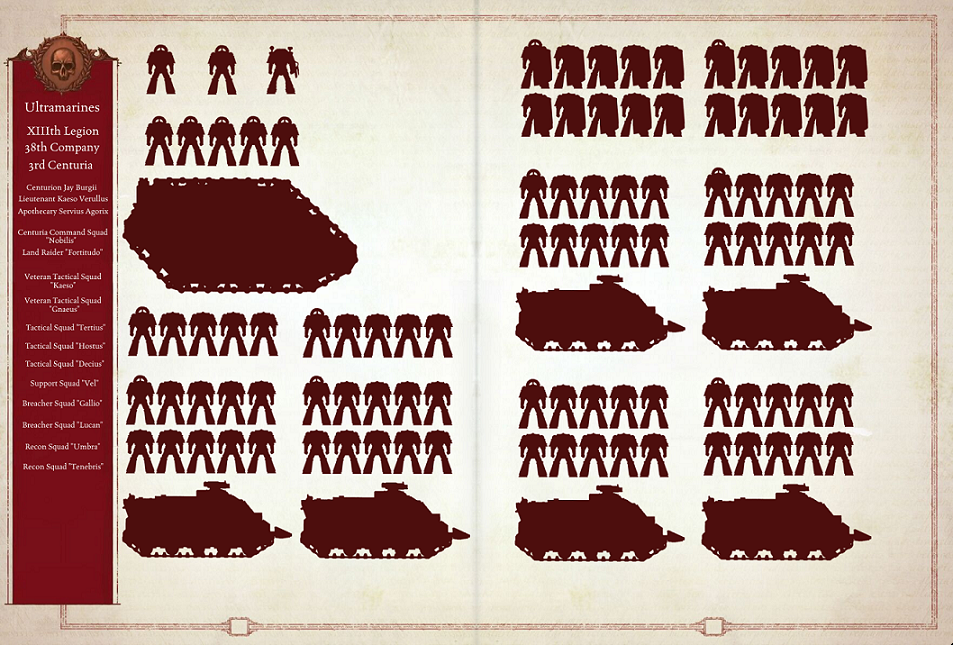 This is the long term plan, I shall also be making up another one of these images for the other stuff in my army like tanks and Suzerain etc.
++ Centurion Jay Burgii - Terran Legionary ++
++ It is rumored among the 38th that Centurion Jay should have originally been inducted into the XIVth Legion,
but the casualties following the Osiris Rebellion at the hands of the Psybrids lead to his recruitment into the XIIIth Warborn ++
++ Apothecary Servius Agorix ++
++ Veteran Squad Kaeso ++
(Missing 3 Legionaries that are in various stages of building/painting)
++ Tactical Squad Tertius ++
(Complete aside from decals/transfers)
++ Rhino attached to Tactical Squad Tertius ++
++ WIP Veteran Tactical Squad Gnaeus ++
(Ignore the guy with white bits, he didn't get the memo that I've changed to black for Veterans)
++ WIP Legion Sicaran ++
++ WIP Command Squad Nobilis ++
(Requires another two marines and finishing painting)
Other stuff that I built and basecoated in blue but no pictures of: Another Tactical Squad, a Land Raider, 5 Suzerains, a B@C Contemptor, 5 Cataphractii terminators and a multi-melta attack bike.
Hopefully I can try and update this thread and keep it alive, a task I always seem to fail when it comes to WIP logs on forums unfortunately.
Thank you for taking the time to have a look, James