I'm building up a mixed force of loyalists from Istvaan III, with the majority being Sons of Horus. Set-up is post bombardment after loyalists started creepin' outta their hidey holes. This will be a small group of hit and run loyalists using whatever is at hand to execute guerilla attacks in the murk of the dying planet. Focusing on squads of mixed Astartes - these are desperate times! 1850 with lots of jetbikes and javelins along with some standard tacticals and termies.

A Sons of Horus Forgelord is the only one who knows how to keep the hodgepodge of weird jetbikes and speeders in the air. Plus he got a single Deathguard tank fixed and running again with the help of its crew and lone Deathguard terminator. SoH Master of Signals knows how to work through the comm-noise and helps coordinate attacks and decodes traitor transmissions. His Orbital Barrage would instead represent hidden explosive booby traps.

I'll deposit various milestones, whims, and fancies here as I go!

Starting things off: A view into my mad methods. This is part of the reason why it takes me forever to get started on a project. I have trouble shutting down the organizer gremlin in my brainspace. Also, mixing armor marks, shoulder pads, and legions in one force demands order. THERE WILL BE ORDER!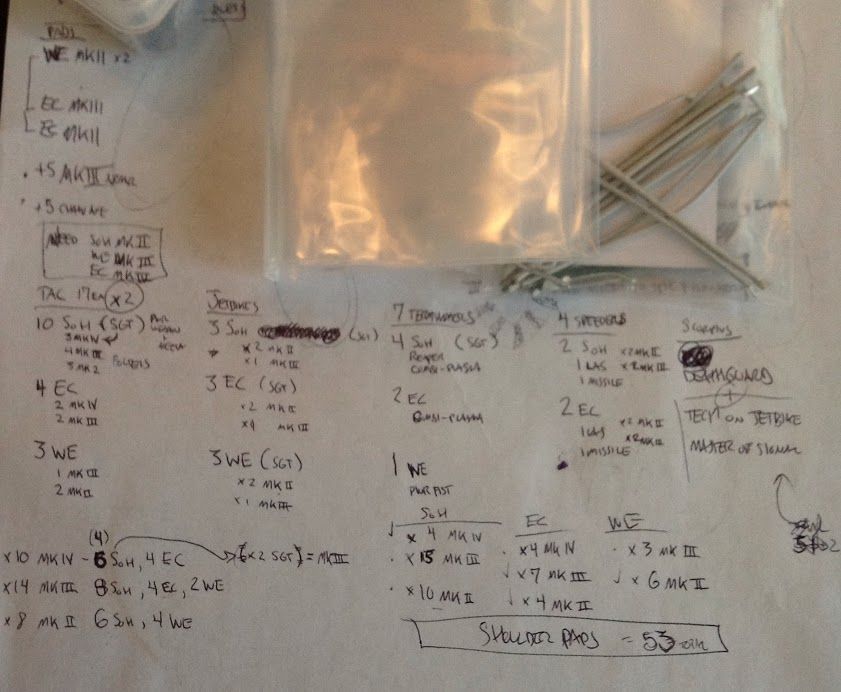 Once the paper work was done I got stuck in on some actual assembly. It took about 18 seconds into cleaning my 1st model before the hobby gods demanded a blood sacrifice. Happens every damn time I start a project. (Just noticed that I totally put the fins on backwards...)