The Bird is the Word!
Started by
**Wraith**
,
Apr 11 2016 08:03 AM
Posted 31 January 2017 - 09:02 AM
That looks amazing! It's just...perfect. Wish my vehicles looked that good.
RandyDar, Davidsot and JefferyIncaf like this
---
Posted 06 February 2017 - 04:42 AM
Your red is exactly what I'm after for my Blood Angels. Would you mind sharing your recipe?

Everything looks so nice and a really solid use of transfers across the force.
Haha... Ummmm about that *hides stolen blood angels recipe dataslate behind back and whistles a tune like an innocent loyal grey word bearer*
oddly enough after being a red phase obsessed painter for the past 17+ years i've somehow come back full circle to a refined version of my high school self's red method.
just current gen alternative brand (VGA) versions of:
- Blood Red
- Scab RED (AKA scarlet red)
- Red Gore
I use some other methods to add shading and weathering, scratches etc.
Also sometimes use Gal Vorbak red for when I want a deeper red tone.
It's done using the MKA blood angels method as I wanted an acrylic red - and not the deep red Metallic scheme.
All taught on their classes if people can make it.
To me, the word bearers are an expansive Legion and just paint their Armour any suitable shade of red at hand
or order it from Mars via the warmasters own 30kEbay dark mechanicus website portal in a variety of @30Shades_of_Red.
So as long as a squad or vehicle squadron is painted up in one shade as per it's chapters preffered red + markings,
another squad from a different word bearers chapter could be a whole different shade entirely.
Word Bearers are quite Rag-tag and esoteric, so I don't mind some freedom in scheme.
Ultimate aim is to build a post Calth force of rag tag elements + a core of serrated sons & Vakrah Jal chapter of the consecrated Iron
+ World Eaters Allies / Shadow Crusade army list.
Take the praise dude, you should be proud of your labours.
Thanks Raglan, much appreciated.
I still plan to do a better one for my own force (a ///mk2b Ram if you will) using a clean unadulterated kit and better freehand etc.
**Wraith** and ChaplainErebus like this
---
Posted 06 July 2017 - 12:44 PM
Conversion Begins...
Wonder what he's saying at this moment in his Sermon...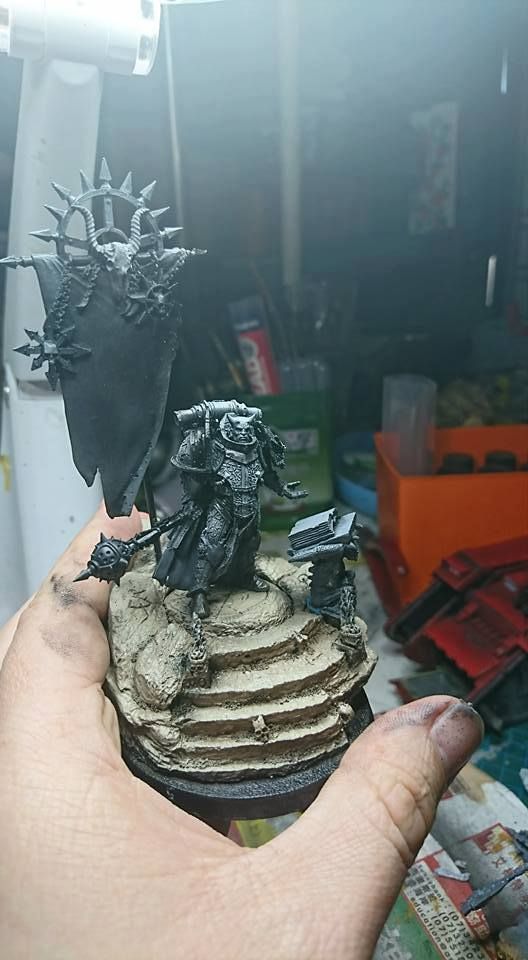 Olly83hammer and Greenjester1134 like this
---
Posted 06 July 2017 - 12:46 PM
Mordian7th, Raglan, DuskRaiderXIV and 1 other like this
---
Posted 06 July 2017 - 10:23 PM
Lovely conversion mate.

---
Posted 09 July 2017 - 07:50 AM
Awesome, what's the head on Lorgar?

---
Posted 09 July 2017 - 08:21 AM
Awesome, what's the head on Lorgar?
I do enjoy a good head
---
Posted 10 July 2017 - 03:38 AM
The horned helm is from the plastic Archaon Kit, still waiting on the crown and topnot parts to arrive.
Reason i went with this helm is due to it's Crown being closely linked with the fluff of lorgars post apothesis helm / head.
Other head is from the bitbox, it's either from the AOS khorne characters or from the skullcrushers kit.
This is a Practice model (it's not the best castso i'll use it for gaming purposes, before I pop open the pristine model for tackling the final display piece.
I'm still playing around with ideas and parts before settling on a theme and look of on the final model.
I do enjoy a good head
#PHRASING!
jaggedredlines likes this
---
Posted 10 July 2017 - 04:57 AM
really like the conversion and the display as well (great book holder).
---
Posted 12 July 2017 - 02:21 PM
Mordian 7th Regiment - Polluting the blogosphere since 0.273.009/M03
---
Posted 20 July 2017 - 04:46 AM
Geez.... thanks Fail-Bucket.
any way I can fix the broken pics now?
---
---
0 user(s) are reading this topic
0 members, 0 guests, 0 anonymous users